Family/General Dentistry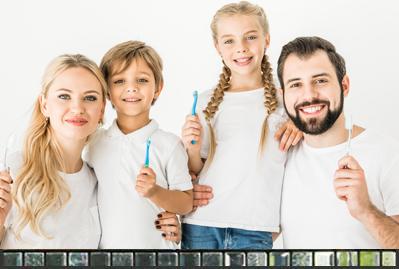 PREVENTION is Key!

Dr. Quintero's first priority as a General/Family Dentist is PREVENTION.
Preventing dental problems is preferable to treating them once they've become, no pun intended, "a pain!"
With this in mind, Dr. Quintero would like to see you & your family every 6 mos. for checkups. This regular interval allows him to monitor your oral health, and recognize any changes or developing problems.
These checkups will include a teeth cleaning, plaque removal, gum examination & checking for signs of tooth decay. If necessary, X-rays will be taken to reveal decay that would otherwise not be visible.
Dentistry for "the Littles"
Kids … we want them to not only leave with clean teeth but with a secure feeling that going to the Dentist can be fun!
At their very first appointment, we will count their teeth, check for decay (Yes - even baby teeth can develop cavities), and if they can sit for just a little longer we'll clean their teeth too. You and your child will learn how to properly brush & floss their teeth … until they reach the age (seven or eight) when they should be able to adequately care for their own teeth & gums.

Two additional procedures important to children's long-term dental health:
Dental Sealants - a thin, clear plastic coating that is applied to a child's deeply grooved molars to "seal" them from decay-causing bacteria.
Fluoride Treatments - strengthen enamel in helping fight against decay.
Together, these two treatments ensure a lifetime of good oral health for your child.